There are few things in life that effectively convey a heartfelt message of love and affection while bringing happiness and cheer, like our "A Little Pink Me Up" bouquet.

Ideal for expressing love to your significant other, commemorating an anniversary, celebrating a loved one's birthday, a[...]
Add To Cart
Add 8 Balloons for $42.95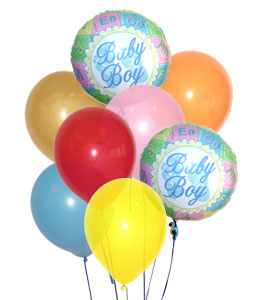 There are few things in life that effectively convey a heartfelt message of love and affection while bringing happiness and cheer, like our "A Little Pink Me Up" bouquet.

Ideal for expressing love to your significant other, commemorating an anniversary, celebrating a loved one's birthday, a[...]
There are few things in life that effectively convey a heartfelt message of love and affection while bringing happiness and cheer, like our "A Little Pink Me Up" bouquet.

Ideal for expressing love to your significant other, commemorating an anniversary, celebrating a loved one's birthday, a[...]
There are few things in life that effectively convey a heartfelt message of love and affection while bringing happiness and cheer, like our "A Little Pink Me Up" bouquet.

Ideal for expressing love to your significant other, commemorating an anniversary, celebrating a loved one's birthday, a child's graduation, or a friend's homecoming party, A Little Pink Me Up is the ultimate gift that recipients are sure to cherish.

This bouquet's pink splendor uniquely conveys your feelings when words alone can't capture your adoration. Asiatic lilies and mini carnations encircle stunning pink roses, forming an energetic floral display. The inclusion of gerberas and full-sized carnations in various pink shades culminates in a dazzling presentation of pink beauty. A hint of greenery not only enhances the vibrancy but also elevates the arrangement's magnificence with a striking contrast against the profusion of pink.

The vibrant pink roses express admiration, appreciation, and gratitude for your loved ones, while the lilies symbolize devotion and wishes for a happy, thriving life. Carnations in general represent love and fascination, but pink carnations hold even greater meaning. Thought to have originated from the Virgin Mary's tears, they signify a bond of love as pure and genuine as a mother's affection for her child. The gerberas' vivid pink shades further intensify the cheerfulness and exuberance in this collection of floral pink treasures.

A Little Pink Me Up is the perfect gift to uplift your loved ones and see them in the "pink of health and cheer."

No matter the joyful occasion, it wouldn't be complete without this luxurious bouquet. Our local florists in Canada and the United States can reserve your A Little Pink Me Up bouquet in advance or create a fresh arrangement for same-day delivery as well.

Item No. T10-3A
Price: $79.95