Is summer upon us?

Summer is a season that many people adore, despite the scorching heat. It brings back memories of lazy days spent sunbathing on warm sandy beaches and playing in refreshing, crystal-clear waters. The mere mention of summer conjures up thoughts of vacations and fun. Woul[...]
Add To Cart
Add 8 Balloons for $42.95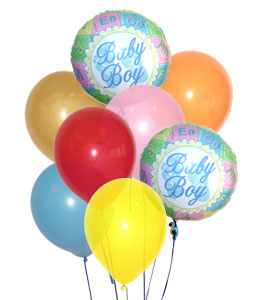 Is summer upon us?

Summer is a season that many people adore, despite the scorching heat. It brings back memories of lazy days spent sunbathing on warm sandy beaches and playing in refreshing, crystal-clear waters. The mere mention of summer conjures up thoughts of vacations and fun. Woul[...]
Is summer upon us?

Summer is a season that many people adore, despite the scorching heat. It brings back memories of lazy days spent sunbathing on warm sandy beaches and playing in refreshing, crystal-clear waters. The mere mention of summer conjures up thoughts of vacations and fun. Woul[...]
Is summer upon us?

Summer is a season that many people adore, despite the scorching heat. It brings back memories of lazy days spent sunbathing on warm sandy beaches and playing in refreshing, crystal-clear waters. The mere mention of summer conjures up thoughts of vacations and fun. Wouldn't it be great to have a summer symbol on your table?

If you agree, then check out Teleflora's Summer Chic. Our bouquet is bursting with vibrant, cheerful hues that embody the essence of this magnificent season. We've arranged bright shades of yellow, orange, and pink in a sparkling vase.

What's in the bouquet? Our skilled local florist has gathered the colors of summer in one stunning arrangement. We've included fragrant orange roses and lovely Asiatic lilies, charming pink dahlias, and adorable carnations. The bouquet is accented with fresh green sprigs of delicate baby buds.

What do these flowers symbolize? At first glance, this blossoming bouquet exudes a lively energy. Each color and species we've selected conveys the same sentiment. The orange roses radiate with enthusiasm and high spirits for all the good things in life. The amber lilies symbolize enduring love and affection for the recipient. The hot pink dahlias embody elegance and sophistication. Finally, the clusters of carnations represent the unwavering love you have for that special someone.

In our opinion, these vivacious flowers are perfect for any happy occasion. You can present them on birthdays, anniversaries, birth announcements, or any special day. We even suggest purchasing a bouquet or two for yourself to add a pop of color to your living space. You can have these gorgeous decorative pieces in your hands within hours when you take advantage of our same-day delivery service.
Item No. T158-1A
Price: $74.95